NextStep IT Security Business Website
Built on WordPress, using Elementor and the Vaximo theme for a high-tech look. Extras included SEO, PPC, and social media.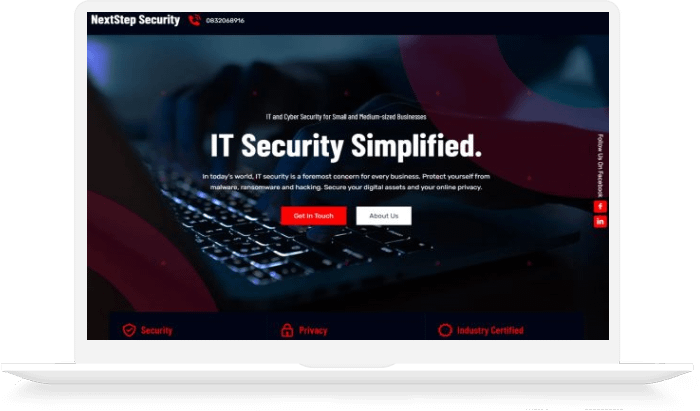 A Cyber Security Website With a High-Tech Look

NextStep Security is our sister company, so it was only natural for us to build their website for them. Since they are an IT security agency, they wanted a design with a darker look that reflected cyber crimes and the hacker world. We made a high-tech-looking site that clearly showcases their cyber security skills and the many services they offer.
NextStep Security is a leading IT and cyber security firm. The company offers a complete IT security solution, handling all cyber security threats and challenges, as well as advising on proactive policy and action.
Theme Animation
FAQ
PDPA Policy
Security Optimization
Lazy Loading
Image Compression
Cloudflare CDN
WordPress Website
Vaximo Theme
Responsive Design
Domain Name & Email
SSL Certificate, Backup
Blogging Function
Hosting & Maintenance Plan
SEO & Analytics (RankMath, Google)
Social Media (Facebook, LinkedIn)
Speed Optimization (GTmetrix, PageSpeed)
Let's build your next website together
Contact us now for a free proposal.